2023 Volvo C40 Release Date, Interior, And Performance

The 2023 Volvo C40 will only get better with time. Settle into this crossover's comfortable seating setup and embrace adventure at every turn when it drops in the upcoming months. We're excited to show you all that this talented model can do on pure electric power. If you haven't felt the rush of driving an innovative model that produces power without a traditional engine's roar, you will be blown away.
Get Ready for the 2023 Volvo C40 Release Date
More miles will come every time you charge up when the 2023 Volvo C40 release date finally comes to fruition. Our vehicle experts are really excited about the style refresh on this sporty coupe SUV. Over-the-air updates will only make it even better as you go on countless adventures near and far. Charge up this EV while you're inside the grocery store or mall; you'll have plenty of range when you reemerge.
Check out the performance of the new Volvo C40 electric for sale at our location today. Test-drive this bold design soon and experience a complete model that delivers a first-class driving experience. Take command of this all-wheel-drive electric SUV and chase down a good time far from the driveway.
What's Inside the 2023 Volvo C40 Redesign?
The 2023 Volvo C40 redesign has over-the-air updates that make this car better as time goes by. Our experts believe that this system will afford you more efficient navigation routes, improved climate control, and better battery performance in cold weather.
While we haven't yet received official updates on the 2023 Volvo C40 range, we expect this year's release to improve on previous models. Some believe that this year's model will have an estimated total driving range of 225 miles or so. Learn more about the ins and outs of our 87-kWh lithium-ion battery pack and twin electric motors at our dealership.
We expect the newest Volvo C40 electric SUV to be completely leather-free from front to back. Recyclable materials will replace leather options, and these synthetic options will be easy to clean, too. This choice points to the overall commitment Volvo has to create sustainable vehicles to achieve a more climate-neutral planet going forward.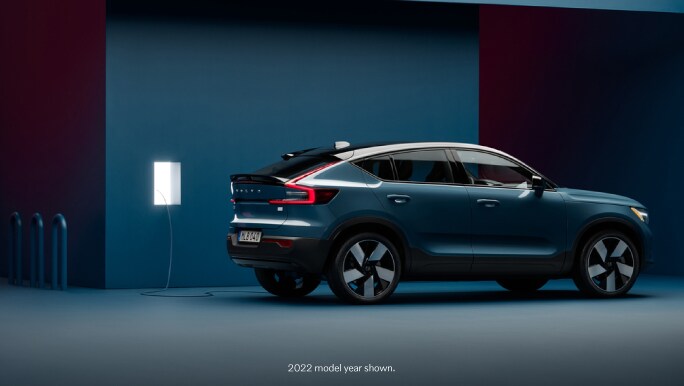 Prepare for the 2023 Volvo C40 Price and Trim
The 2023 Volvo C40 bursts out of the gates with a flash. This option fits within the pricing profile of the Volvo SUV lineup next to the Volvo XC40, Volvo XC40 Recharge, Volvo XC60, and Volvo XC60 Recharge.
We currently expect the 2023 Volvo C40 Ultimate to be the only trim level available after the 2023 Volvo C40 release date. Our team will take you through impressive aspects like the Volvo Range Assistant, an expansive Google™ infotainment system, and a panoramic sunroof.
For a sense of what the starting price will be for the new Volvo C40 for sale, look through previous model years and recent SUV releases. Our certified technicians will show you similar elements in cars like our Volvo XC40 Recharge and which features you'll only be able to find in the 2023 Volvo C40.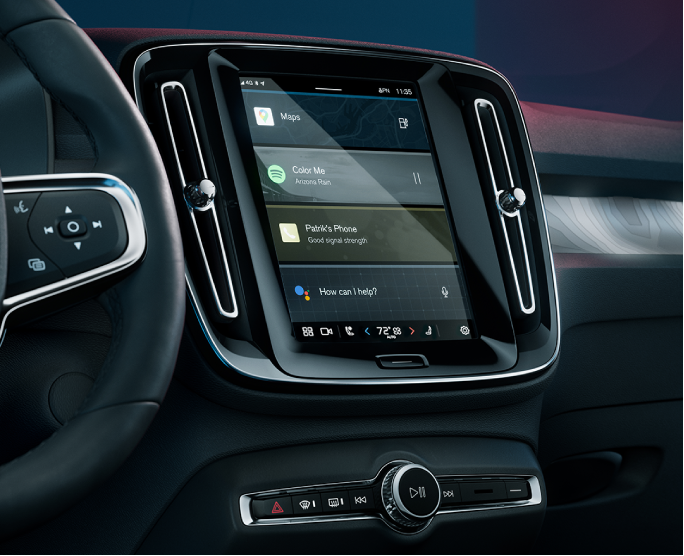 Open the Doors to Our 2023 Volvo C40 Interior
The 2023 Volvo C40 interior will remain durable and comfortable as you go through all of life's journeys. We believe that these Volvo C40 features will return in the 2023 model, plus some additional improvements.
Sustainable interior materials
Digital cockpit
Heated steering wheel
Harman Kardon® Premium Sound audio system
Instant smartphone connection
Heated seats
Touchscreen infotainment display
Wireless smartphone charging
Volvo Cars app
Automatic climate control throughout the cabin
Remote Connection through the Volvo Cars app
Reserve your next Volvo model today at Wynne Volvo Cars Hampton. We'll find a convenient time in your schedule to show you all that the 2023 Volvo C40 brings to the table. Sign up for updates today inside our showroom, and we'll make sure you're the first to know when this SUV is available locally.
FAQ About Our 2023 Volvo C40 Redesign
As the 2023 Volvo C40 release date grows closer, we're hearing a lot of questions from drivers that want to know more about our electric SUV options. Our trained technicians and Volvo vehicle experts will help you find the exterior color that expresses your personal style at our official Volvo dealership.
We're always ready to get you the crucial car information you need to make an educated decision at Wynne Volvo Cars Hampton. Here are a couple of questions to review that we often answer inside our facility.
What is the 2023 Volvo C40 release date?
We do not have an official 2023 Volvo C40 release date at the current moment. However, vehicle experts believe that a summertime release is on the way for this all-electric SUV coupe. You'll be able to choose from new exterior color choices, enjoy sustainable materials all over the cabin space, and charge up quicker. Keep your eyes peeled on our new car inventory for the 2023 Volvo C40 as the summer months progress.
What updates will the Volvo C40 get in 2023?
The 2023 Volvo C40 redesign is expected to have updated exterior colors, a leather-free cabin, heated seats in both rows, and a more rapid charging time. If slow charging has been holding you back from making the leap to sustainable fuel, make sure you check out this model when it makes its debut. We expect the 2023 model to charge up to full in the same amount of time it takes to do a load of laundry.
How much will the 2023 Volvo C40 cost?
We are still waiting for official information on the starting price of the 2023 Volvo C40. You can expect this car to share similar starting prices with other Volvo luxury electric models. One of the hallmarks of Volvo as a luxury brand is a commitment to sustainability. Not only will you feel comfortable in our cars for years to come, but we also make vehicles that help the world move forward wherever you drive. That's the difference between a car that looks good and a first-class Volvo vehicle.
---
Reserve The 2023 Volvo C40 at Wynne Volvo Cars Hampton